New Jersey Business Portrait Photographer Rob Wilson has had a busy year so far. It seems more and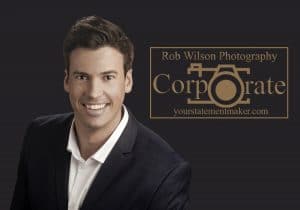 more executives and entrepreneurs understand the importance of a robust corporate headshot. Whether it's for a printed newsletter, LinkedIn, and any other social media profile that you use for business.
Rob Wilson travels all over New Jersey, New York, Bucks County, Philadelphia, and at times Connecticut. Very few photographers specialize in corporate headshots, and as a result, Rob has many loyal clients that he works with anywhere from monthly to yearly.
New Jersey Corporate Headshot Photographer
We set up at your office. Rob will bring the lighting, backdrop and of course, his camera. Not much room is needed; usually, space the size of a small bedroom is sufficient.
Many of our clients like to have their employees choose their images the day of. As a result, we have our camera tethered to a laptop so they can select their favorite photos. From there, Rob will retouch the chosen images to the specifications of the subject. Wrinkles can be either removed or softened, double chins, whiter teeth, stray hairs, blemishes, will be taken care of.
Would you like more information? Call (800) 757-3491 or email by visit our contact page by clicking here.